One of the great things about self-publication on the wild wild web is that you control how your material appears and where it links. Aim for publication with an established online journal and you'll benefit from editorial input, which is great, and you may reach more readers, which is better — but you do have to accept the house-style and whatever adverts the journal chooses to decorate your article with.
Sometimes the articles aren't so much decorated as buried. As a reader, I find a page like this one hard work, even if the actual 10% of substance is worth digging out.
I mention this because I've just noticed a change over at Artima, an online journal which has always maintained a fair balance between articles and adverts. Take a look at this snapshot of an article of mine published on Artima.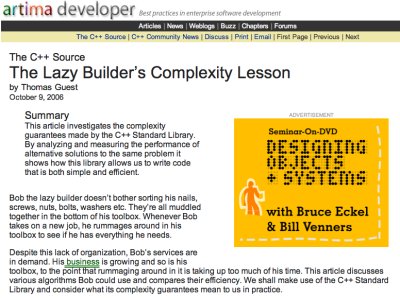 The doubly underlined green link to business is actually a pop-up advert which activates when you hover over it.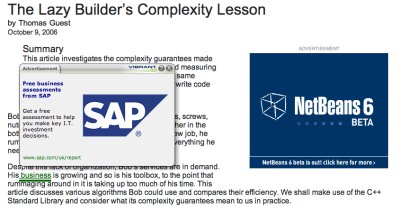 Elsewhere in the article you'll find other advertising links which I didn't put there. Evidently an advert-placement script walks through the text as the page loads and inserts some sneaky links which are very tenuously related to what I wanted to say.
There must be a better way.